Back to MAEPD.ORG
PLEASE DOUBLE CHECK
THE DATE AND LOCATION!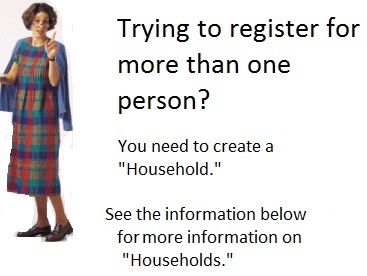 REMEMBER
:
Workshop confirmations are AUTOMATICALLY generated


and sent to the EMAIL ADDRESS you have in your profile. Please make sure your email address is correct, or you will not receive a confirmation
.
Duplicate registrations are not permitted.
HOUSEHOLDS - REGISTERING MORE THAN ONE PERSON
If you are registering yourself AND/OR someone else, make sure you use their information, and add them as a "Household Member". The system can only generate name tags and rosters based on the name of the participants. Registering yourself twice and saving a seat, doesn't guarantee your colleague workshop materials and proper workshop identification.
IMPORTANT: The "Add Household Name" option is available AFTER you begin the registration process and have indicated the number registering for the event.

If you need help registering more than one person, please email Debra Hargrove at dlhargrove@aol.com
---

To begin using the online registration system:
1. First create a user account.
a. Click on the "Register" link (see sample below) to create a username and password.

b. Once you have created a username and password, you will simply be able to "Sign in" and enroll in future training workshops.
2. Review the available classes located on the left side of the page.
3. Choose the class and enroll!
NOTE: If you are enrolling more than one person from your worksite, simply add their names under the "Add Household Name" section. You will be able to choose each household name for enrollment.
To see a SAMPLE Confirmation page, click here.